Search Engine Optimization:
A Glossary to Enhancing Your Website's Visibility
In the vast digital landscape, where competition for online visibility is fierce, harnessing the potential of Search Engine Optimization (SEO) has become essential for every website owner. SEO is the transformative process of optimizing your site to rank higher on search engine results pages, drawing in more organic traffic and reaching your target audience effectively.
Navigating the intricacies of SEO terminologies can be perplexing, leaving many website owners scratching their heads. But fear not! We've crafted a handy glossary below to demystify these puzzling terms and empower you to master the art of SEO.
Whether you're an aspiring digital entrepreneur, a seasoned business owner, or simply looking to expand your online presence, this blog is your ultimate resource for unraveling the secrets of SEO success.
At Celebration Web Design (CWD), we're passionate about helping businesses thrive in the digital realm. If you have any questions or seek further clarification on online marketing strategies, don't hesitate to reach out to us at info@celebrationwebdesign.com.
Clicks: Clicks refer to the number of times users click on a specific organic search result listing and visit the website. It represents the engagement and interest users have in the displayed content when they choose to click and access the website from the search engine results page.
Impressions: Impressions represent the number of times a website's organic search result listing appears on search engine results pages (SERPs) for specific search queries. It indicates the visibility and reach of a website, showing how often it appears in front of users during their search.
Click-through Rate (CTR): CTR is a metric that calculates the percentage of users who click on a specific organic search result after viewing it. It is calculated by dividing the number of clicks by the number of impressions and multiplying it by 100. CTR provides insights into the effectiveness of a website's listing in attracting clicks from users who encounter it in the search results.
Positions: Positions, also known as search engine rankings, indicate the numerical placement of a website's organic search result on search engine results pages. It represents the position at which a specific web page appears for a given search query. Higher positions indicate better visibility and increased chances of attracting organic clicks from users, as they are more likely to click on the top-ranking results.
Keyword: A keyword is a word or phrase that users type into search engines to find relevant information, products, or services. It serves as a crucial link between user queries and search engine results, determining the visibility and reach of a website. Website owners and marketers strategically target specific keywords to optimize their content and improve their search engine rankings, aiming to attract organic traffic and fulfill user intent.
Domain Rating (DR): The AHREFS Domain Rating (DR) is a metric that measures the overall authority and strength of a website's backlink profile. It provides an assessment of a website's credibility and influence based on the quantity and quality of backlinks it has, as well as the authority of the linking domains. The DR score, ranging from 0 to 100, serves as a benchmark for evaluating a website's potential to rank well in search engine results and indicates the relative strength of its backlink profile compared to other websites. The DR score is based on a logarithmic scale, meaning that it becomes increasingly difficult to improve the score as it moves towards higher values.
Backlinks: Backlinks are incoming links from other websites that point to a particular website. They play a crucial role in search engine optimization (SEO) as they act as a vote of confidence and credibility for the linked website. Backlinks serve as a crucial factor in determining the authority, popularity, and trustworthiness of a website, as search engines consider them as indicators of quality and relevance. Website owners and marketers actively seek and build backlinks from reputable sources to enhance their website's visibility, organic search rankings, and overall online presence.
Referring Domains: Referring domains are unique websites that contain at least one backlink pointing to a specific target website. They represent the number of distinct sources or domains that link to a website. Referring domains provide insights into the diversity and breadth of external websites that reference and endorse a target website through backlinks. A higher number of referring domains indicates a wider network of websites vouching for the credibility and relevance of the target website, which can positively impact search engine rankings and organic visibility.
Organic Search: Organic search refers to website traffic that comes from users finding and clicking on organic search engine results. It represents visits to a website that are not influenced by paid advertising. Users discover the website through search engine queries related to their interests, and the website appears in the search results based on its relevance and optimization for those search terms.
Direct: Direct traffic represents visits to a website where users directly type the website URL into their browser or click on a bookmarked link. It includes traffic from users who are already familiar with the website and navigate to it without the use of search engines or referral links.
Referral: Referral traffic refers to visits that occur when users click on a link from another website to reach the target website. These links can be from external sources, such as blog posts, articles, or other websites that link to the target website. Referral traffic indicates that another website has referred users to the target website, potentially through a recommendation or relevant content.
Organic Social: Organic social traffic represents visits to a website that come from social media platforms without any paid promotion. It includes traffic generated from posts, shares, or mentions on social media platforms like Facebook, Twitter, Instagram, or LinkedIn. Organic social traffic indicates that users are discovering and accessing the website through non-paid social media engagement.

Featured Partner
Marlene Bagnull – Director, Christian Writers Conference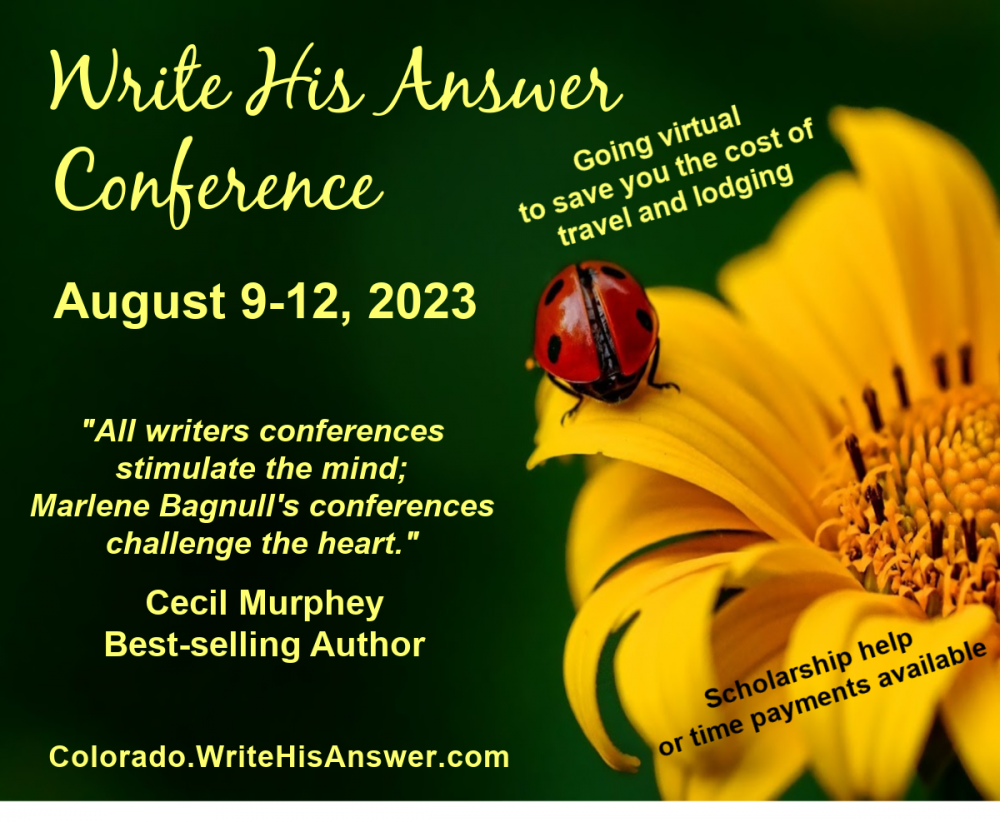 The Lord is building an army to "write His answer" (Habakkuk 2:2). Is He calling you to enlist? Whether you write articles or nonfiction books, short stories or novels for children, teens, or adults He wants to use the words you write to make a difference in the lives of your readers.
For 26 years the Colorado Christian Writers Conference and for 39 years the Greater Philly conference have been "encouraging and equipping Christians to write about a God who is real, who is reachable, and who changes lives." This year the two conferences are again combined into one virtual Write His Answer Conference August 9-12. A faculty of 60 agents, editors, authors, and other professionals will provide over 100 hours of LIVE teaching to give you the practical help you need to grow your writing and marketing skills.
The conference is more than a 3.5 day online learning experience. You will have through the end of the year to view over 100 hours of video replays. And you can continue to grow your network of writing friends by attending the bi-weekly Monday Night Fellowship, bi-weekly morning or evening critique group, and monthly Hour of Encouragement on Zoom. For more information go to https://colorado.WriteHisAnswer.com.