It is a bitter cold February day. As I sit at my computer and look out the window, I can't help but daydream. A winter storm has encrusted the trees and bushes with a thick layer of ice that glistens in the bright sunshine. Spring seems a long way off. Wistfully I dream of golden daffodils and fragrant lilacs.
My thoughts wander to the vegetable seeds I planted yesterday in window boxes on my toasty radiator. Although they are weeks from sprouting, I'm already thinking how good it will be to have fresh, homegrown tomatoes, peppers, and cauliflower. The ringing of the phone brings me back to the present and, after a brief conversation, back to this blank screen. "Lord, what do you want to say through me?" I ask.
"Bear fruit," I feel Him speak to my heart.
I sigh. For all my hard work this past month, I don't feel I have borne much fruit. January's mail was slow to bring acceptances or checks.
"I feel as if I've plowed and planted my garden, but nothing is growing," I complain. "It's not that I mind the hard work, Lord. But when am I going to see the fruit of my labors?"
"Have you forgotten what I taught you about abiding?"
I open my Bible to John 15:4 and read: "Take care to live in me, and let me live in you. For a branch can't produce fruit when severed from the vine. Nor can you be fruitful apart from me" (TLB).
I think back over the past weeks and the many excuses I've made to shortchange my quiet time with the Lord. It's no wonder my writing is not bearing fruit. I have been trying to do it in my strength instead of His.
Again the Lord reminds me that my relationship with Him is more important than anything I can do for Him. Then, in a new way, I also see the kind of fruit He longs for me to bear. Far more important than powerful prose or beautiful poetry is the fruit of Christlikeness.
"But when the Holy Spirit controls our lives he will produce this kind of fruit in us: love, joy, peace, patience, kindness, goodness, faithfulness, gentleness and self-control," I read from Galatians 5:22-23 (TLB). I have to admit that sometimes this fruit is sadly lacking in my life.
LOVE for the Lord and my readers is not always my motivating force. Too often I am caught up in the ego trip of seeing my name in bigger and better magazines. When editors do not accept my work, I do not feel very loving towards them.
My JOY is lost when I push myself to get manuscripts in the mail and measure my fruitfulness by the number of acceptances I receive in return. My PEACE is destroyed when I take my focus off the Lord and put it on myself – on my goals, my needs, my feelings.
My PATIENCE wears thin when things don't happen as quickly as I want and feel they should. Instead of waiting on God and his perfect timing, I become discouraged and irritable. I say unkind things to the people I love, especially to my children, when they interrupt me when I'm trying to write.
GOODNESS makes me think of Paul's words about Jesus: "He went around doing good" (Acts 10:38 TLB). Am I "doing good" through what I write? Using Lee Roddy's acrostic, BERT, do my words really Benefit my readers? Do they Enrich them? Are they Relevant and Timely?
FAITHFULNESS. The Bible assures me that "the one who calls [me] is faithful" (1 Thess. 5:24 NIV). Therefore, I do not have to become consumed by the dollars and hours part of my writing – by the little I earn for the long hours I work. Instead, I can choose to trust His promise to supply all my needs (Phil. 4:19) and to remain faithful to my call to write His answer.
GENTLENESS, I learn as I look at the original Greek meaning of the word, is not just the way I treat others. The NIV Interlinear Greek-English New Testament translates it as "meekness." Vine's Expository Dictionary of New Testament Words says, "It consists not in a person's 'outward' behaviour only; nor yet in his relations to his fellow-men. . . . It is that temper of spirit in which we accept His dealings with us as good, and therefore without disputing or resisting." In other words, instead of almost demanding that God "bless" my ministry, I must surrender my desires to Him. I need to follow Jesus' example and remember how He took on "the very nature of a servant, . . . humbled himself and became obedient to death" (Phil. 2:7-8 NIV).
SELF-CONTROL makes me think of discipline and my need to take control of the hours in each day, as well as my thoughts, feelings, and actions which often defeat me. I can choose to dwell on the positives and not procrastinate. Most of all, I can choose to relinquish control of my life to the Lord every day and trust Him to work in me and through me.
"Yes, I am the Vine; you are the branches," I feel Him speak to me again through his Word. "Whoever lives in me and I in him shall produce a large crop of fruit" (John 15:5 TLB). He doesn't say when, but He also doesn't say maybe. Instead, He gives me the conditions. I must deliberately choose to abide in Him and submit wholeheartedly to His pruning of my motives and goals. I must take care to stay close to Him – to let Him live in me. Only then will my life and my words bear fruit.
Click here for a free Bible study, "Bear Fruit."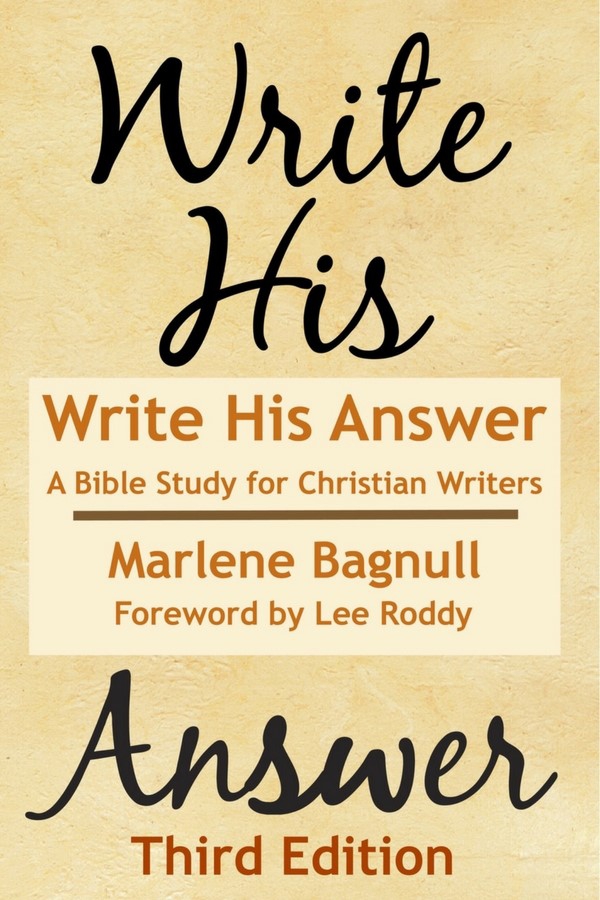 Write His Answer by Marlene Bagnull is a "must-have" resource for any writer. It offers the perfect balance of practical tools, personal honesty, and insightful passages of Scripture. I was inspired by her wisdom and challenged to answer God's call to write in authentic, life-changing ways. Write His Answer will help you solidify your calling and get to the root of insecurities may writers face.
Angela Donadio
Recording Artist, Blogger, Author
For 30 years Write His Answer has encouraged writers. An autographed copy is available for only $10 plus shipping. Click here. You can save the cost of shipping by ordering $35 from the Write His Answer bookstore where you'll find over 120 writing how-to books as well as the 2021 Christian Writers Market Guide – ALL DISCOUNTED!
Now, to share why it's taken so long to post. I've been working on the 2021 Greater Philly and Colorado Christian Writers Conference! Due to the continuing pandemic, out of an abundance of caution we're going virtual, but both conferences will be highly interactive and virtually amazing. The faculty is almost in place for both conferences.
See who is coming. Visit https://philadelphia.writehisanswer.com and https://colorado.writehisanswer.com. And save the date!
---