James 1:7 "Every good and perfect gift is from above, coming down from the Father of heavenly lights."
The Lord continues to bless us, here in Florida at Celebration Web Design (SKWD), beyond what we could imagine. Therefore, we are able to continue to bless and be blessed by our partners.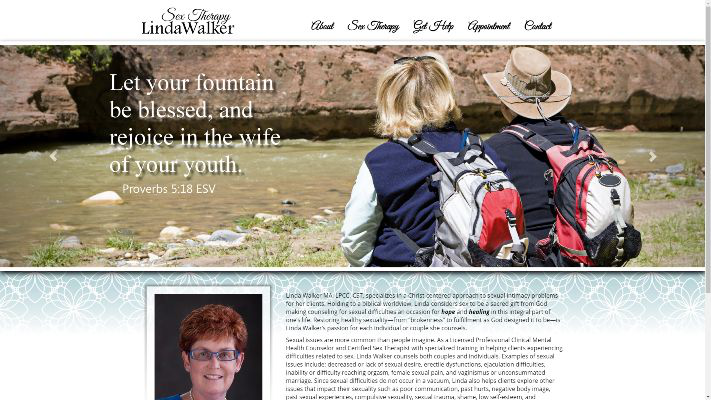 We are making many new partners as the Lord leads them to us through the internet, referrals and conferences. We are awed by the constant requests for new web sites providing the necessary work and income to continue our work with both current and new ministries.
The ministries we work with are so varied. We learn so much of how God is working in our hurting world through interaction with our partners. The partner we would like to feature in this blog is Linda Walker.
Linda Walker MA, LPCC, CST, specializes in a Christ-centered approach to sexual intimacy problems for her clients. It is Linda Walker's firm conviction that counseling for sexual difficulties is an occasion for hope and healing in this integral part of life. Restoring healthy sexuality-from "brokenness" to fulfillment as God designed it to be-is Linda Walker's passion for each individual or couple she counsels. Linda Walker holds to a biblical worldview and considers sex to be a sacred gift from God.
Linda Walker is a Licensed Professional Clinical Counselor and Certified Sex Therapist who has specialized training in helping clients experiencing difficulties related to sex. Sexual issues are very common and Linda Walker can help. Linda Walker counsels both couples and individuals with a variety of sexual issues. Since sexual difficulties do not occur in a vacuum, Linda Walker also helps clients explore other issues that impact their sexuality such as poor communication, past hurts, negative body image, past sexual experiences, compulsive sexuality, sexual trauma, shame, low-esteem and unrealistic views of sex from the media to name a few. Please visit Linda's site: http://lindawalkercounselor.com/
We would like to feature other partners and their ministries in future blogs. If you'd like to be featured, please send us an email with with the write-up you'd like to share.
God Bless!!