EZ-CMS Additional Features
Tuesday, November 10, 2015 by CWD Staff
CelebrationWebDesign.com by SKWD is pleased to announce two additional features to our EZ-CMS management system. We are excited about the new Video page and the multi functional Store sub-system. Our new Video page allows you to easily manage and categorize all of your videos utilizing Youtube and Vimeo. Our new multi featured Store allows you to add products and associate products with categories, sort by name, lowest to highest price, highest to lowest price, categories or the original order. The Product page will still be available for our partners who want to offer only a few items on their site.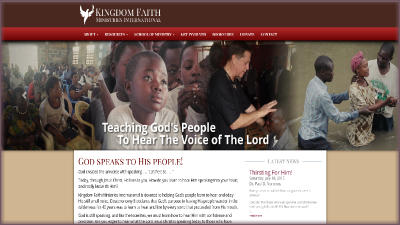 To see these new pages in action visit one of newer partners sites at: www.kingdomfaithministries.org, Look for the Video page under resources or the Bookstore menu item.
Kingdom Faith Ministries International ministers to Christians around the world. Dr. Paul Norcross has traveled for over 40 years and taught God's word in nearly as many countries. Paul's objective is to equip pastors and church leaders teaching them how to hear and obey the voice of the Lord Jesus Christ with confidence, clarity and consistency.
To lear more about Kingdom Faith International visit: www.kingdomfaithministries.org
---
---