Trail Life USA
Friday, November 6, 2015 by CWD Staff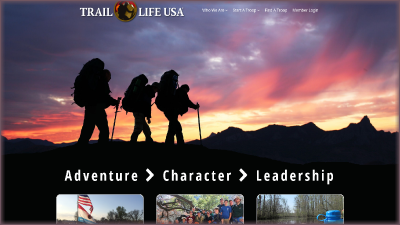 CelebrationWebDesign.com by SKWD recently developed a new website for our partner, Trail Life USA. The redesigned website has an exciting look and great new features like responsive web design, interactive maps, forms plus stunning visuals.
Trail Life USA is a Christian Outdoor Adventure, Character, and Leadership Program for boys and young men. Operating from Troops that are chartered through churches in 48 states, the K-12 program centers on outdoor experiences that build a young man's skills and allow him to grow on a personal level and as a role model and leader for his peers. Living the Trail Life is a journey established on timeless values derived from the Bible.
Celebration's staff absolutely loves working on sites that promote Christian Character in young men. Trail Life USA's mission is to: guide generations of courageous young men to honor God, lead with integrity, serve others, and experience outdoor adventure. Imagine the impact Trail Life USA will have on these boys twenty years from now.
TLUSA's motto "Walk Worthy" is great thing to remember everyday, and our staff is so glad God brought us together and be a small part of this ministry. Never forget what Colossians 1:10 says, "… that you may walk worthy of the Lord, fully pleasing Him, being fruitful in every good work and increasing in the knowledge of God;…"

For more information visit www.TrailLifeUSA.com.
---
---